Interested in learning how to start a vegetable garden? Maybe you've been scanning Pinterest and came across lovely images of lush green gardens brimming with fresh vegetables, fruit, and herbs. Surely those gardens only belong to master gardeners or Martha Stewart, right? Wrong. Anyone, including you, can successfully grow a garden, and there's no need to have a spare acre of land to do it in.
Whatever the size of your yard, or balcony, you can grow good things right where you live. (Unless you live in Siberia, then I honestly have no idea…) There's no magic gift that only a select few people possess for growing a garden. Even if your last houseplant died a miserable and messy death of overwatering, chances are, you can still get something growing and be able to reap the rewards. All it takes is a little planning.
Where to Begin Garden Planning?
If you've never gardened before, or if it's simply been a while, you might not be sure where to begin with a vegetable garden. Even though it may not be time to buy seeds and plants yet, there's still garden planning to do before the actual planting. So here are some simple steps to help you get started:
What kind of a garden do you want?
Before you can start a vegetable garden, you'll need to decide what type of garden you'd like. Choose from a row (traditional), raised bed (need to build a bed? Here's a tutorial.), or container garden. The space you have available may determine what type of garden you choose, as well as what you may want to grow, but here's some info on each:
Row Garden– Think about your grandmother's garden. This is your traditional garden with rows tilled directly into the ground and planted. It's wonderful if you're planning to grow lots of produce in order to put some away for use in later seasons. And you can certainly use the space to try your hand at all kinds of varieties of vegetables, fruits, and herbs.
Pros– no need to build beds, easy to walk through, low start up cost.
Cons– tiller most likely required, can flood if rains are very heavy, grass/weeds can easily infiltrate, and that means more work for you.
Raised Bed Garden– These gardens are usually square or rectangular "boxes" filled with soil, and plants are grown in either rows or square-foot method (my personal fav!). They can be placed just about anywhere, sun permitting, and are great for newer and more experienced gardeners alike.
Pros– fewer weeds to manage, grass won't creep in, no tilling required. They're also easy to fit into smaller yards. This is perfect for those who just want to try their hand at gardening.
Cons– expense of building/buying the frame and adding soil (try my DIY Potting Soil recipe to fill a raised bed). And if you're looking to grow lots and lots of vegetables to put away for winter, you'll have to get more creative when using raised beds.
Container Garden– These are gardens composed of a variety of pots and containers where various plants are grown. This is a perfect idea for those with small spaces and balconies.
Pros– easy to manage, visually appealing if pots coordinate, little weeding needed.
Cons
-cost of purchasing pots and
potting soil
, limited space, can't grow a large variety of plants.
Need some help on what to grow in container gardens? Check out my
recommendations
! And a
container salad garden
is always a great way to dip your thumb into the arena of container gardening!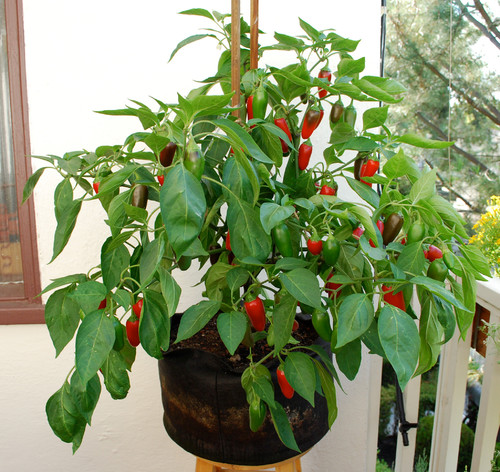 Where to place your garden?
Gardens of course need a good amount of sunlight and water. So you'll naturally want it in an area in your yard that gets sun most of the day. (Consider making a
sun map
of your yard if you haven't already.) You'll also want to consider its distance from the nearest spigot. Who wants to carry water by hand to the garden? The convenience factor of water and what area gets the best sun will be some of the most important factors to consider.
Also consider what's closest to your sightline and usual walking area. The saying "out of sight, out of mind" could also apply to gardens. If you place your garden area in your side yard, a place where you don't often go, then chances are you may forget about it and not give it the TLC it needs. So consider the layout of your yard, and your usual yard habits. This will go far in this first step of garden planning to help you determine what type of garden to grow and where.
What if you change your mind?
That's okay! There's beauty and flexibility in gardening. We initially began row gardening in our backyard, but the weeds and lack of time able to spend maintaining it caused us to rethink. We now have a combination of raised beds and containers, and it's perfect for us! I'd still consider a full row garden in the future, but for now, we'll be sticking with raised beds.
Want a free kitchen garden planner? Submit your email below, and I'll send it to you:.
So what type of garden are you planning to grow this year? I'd love to hear about your gardening plans! Once you've decided on the type of garden you'd like to grow, head over to
How to Plant a Vegetable Garden.