The Kitchen Garten has been a labor of love over the past three years, and I am excited to keep growing! The best resources for starting a blog are those I have personally used that have been steady for me over the years. They offer great help to those just starting a blog or those with an established following.
Tried and true blogging resources
I've also only included resources whose creators stay engaged with their product (such as updating courses and giving you lifetime access) as well as those with higher engagement on Facebook groups and other social media outlets.
Who wants to purchase a course from someone just to never hear from them again? Not me. If I have questions, I definitely want to know there is a way to get an answer!
This post may contain affiliate links, which simply means I may earn a commission off of links at no extra cost to you. Thank you for supporting my site!
Starting a blog doesn't have to be a solo-effort. In fact, there are many ways to build an online community for yourself of those who are working toward the same goals as you! And getting good insight from quality resources and being engaged in online communities are great ways to do just that.
All of the blogging resources I am listing are those I have actually used myself. I wouldn't recommend anything I haven't used in building my own blog. Now, on to the resources!
How to Get Started Blogging
1. Elite Blog Academy by Ruth Soukup (of Living Well Spending Less)
(2021 Update: As of right now, EBA is no longer enrolling students, but you can still follow the link above for great FREE blogging resources.) Y'all this course is a total investment in your business.
So, if you're just thinking about blogging, but not completely sure, then this may not be the route for you. I have personally invested in the course, and it takes you through what to blog about, how to start it, and all the way through to full business development. There's so much fantastic information! Here's what you get with the course:
12 Modules with instructional videos
Q and A sessions with each module
Printable work pages to accompany each unit, including specific assignments for you to grow your business
Access to an Elite Blog Academy Facebook Group
Live Q and A sessions on Facebook
Self-paced, you can work at your own speed. I'm not going to lie, I slowly trudged through the course for over a year, but that was the perfect speed for me!
LIFETIME ACCESS- probably the biggest bonus. I started with Elite Blog Academy 2.0 and ended up finishing when it was EBA 3.0. And every time the course is updated, you'll have access to the new materials. Who doesn't need a refresher now and then? Elite Blog Academy 4.0 will be released in March of 2019, and it's set to be the best version yet!
Free Assessment- Take the EBA free assessment to see if it's the right fit for you!
I started reading Crystal's blog way back in 2008, and it's one of the few blogs that I have consistently read over the years. Her wisdom in her approach to blogging has been very helpful to me.
She was one of the reasons I wanted to start a blog, so when she began YourBloggingMentor.com, I knew that it would be well done and affordable. Here are the benefits of Your Blogging University:
Take only the courses you need. Pick and choose the areas you need instruction in and only pay for those, instead of a huge cost for an entire series.
Easy to navigate and understand, even for beginners.
Affordable, many of the courses start at just $37!
Assignments to accompany each lesson to get you working on your own business.
LIFETIME ACCESS- A huge deal, since technology changes so quickly, this is a great way for you to stay fresh and get new information as the courses are updated.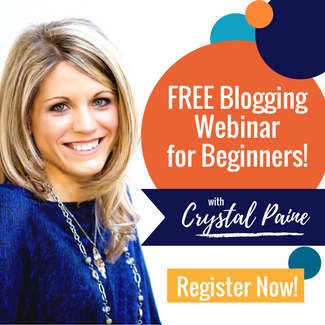 Amy is a fantastic resource for all writers and bloggers. Her no-nonsense simple explanations are incredibly helpful… and FREE! Here are some of the benefits I've found from using Amy's site:
It's Free! So, if you're just considering starting a blog, this could be a huge determining factor.
Amy's experience in blogging extends back 14 years, so she's been through it all, and her wisdom in invaluable.
Her book, Tell Your Time, is a low-cost but highly effective book about managing your different roles (which I find especially true for women), and is helpful for those delving into running their own business online (like a blog!). And it's only $2.99, total deal.
She takes you step by step through the six steps to developing and starting your blog.
Did I mention it's free? Just checking.
4. WordPress (WordPress.com and wordpress.org)
There are several platforms to use when starting a website or blog, but WordPress has been my go-to. It's incredibly easy to use, and the forums on wordpress.com are incredibly helpful for those starting out. If you're just testing out the waters of blogging, then you can even start your blog for free on wordpress.org. This was how I started, and once I knew I wanted to get serious, I took my blog from wordpress.org and easily moved it to wordpress.com.
5. Great Web Hosting
Your blog will only be as good as your content (of course) and hosting. Hosting affects the speed of your site and when (if ever) your site crashes or is temporarily down. Having a web hosting company that has excellent customer service is a must. You want to be able to contact someone immediately if there are problems and have those problems resolved quickly.
The company I recommend (and personally use) for hosting is Siteground. I used a different hosting company initially, and once my traffic increased, they could no longer keep up. My site would crash, and that would cost me readers.
Many hosting companies offer incentives for joining up, such as a discount for the first year. Feel free to research the different companies, because there are lots of reviews out there of the various web hosting companies. So start off with a good one, and you'll save yourself a headache!